SUZUKI CONGRATULATES ROBERT "RT" TROSSET
WINNER OF THE 2019 IGFA TOMMY GIFFORD AWARD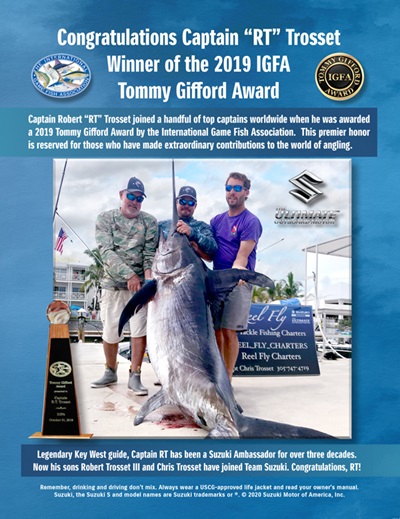 (JANUARY 1, 2020 – Brea, CA) – Over the past 33 years, Key West, Florida-based fishing guide Capt. Robert ""RT" Trosset has owned dozens of offshore, flats and bay boats, taken thousands of anglers from around the globe out on bluewater and backcountry adventures, and racked up 238 I.G.F.A. line-class and fly fishing world records for his clients. And aside from his unwavering willingness to do whatever it takes and run whatever distance is required to get his customers on fish, there has been one other constant during Trosset's amazing career — Suzuki outboards.
"I began running Suzuki outboards back in 1986, and have never once looked back," said Trosset. "The amount of time spend on the water every year, the miles and hours I rack up chasing fish across the Atlantic Ocean, Gulf of Mexico or deep into the farthest mangrove channels, I need a motor that is rugged and reliable. Downtime is never an option in my business and throughout my whole career. I've never considered any other motor brand, because these outboards work as hard as I do."
Trosset's fishing career has been filled with tournament wins, line class world records and industry recognition. In 2004, RT received a Lifetime Achievement Award from the IFGA. In October 2019, RT reached another milestone when he, along with a handful of top captains from around the world were presented with the 2019 Tommy Gifford Award from the International Game Fish Association. This prestigious honor is reserved for captains, guides and crew who have made significant contributions to recreational angling worldwide.
"We truly think of RT as part of the Suzuki Marine family and couldn't be prouder of him for receiving this well-deserved recognition," said Gus Blakely, Marine Vice President of Sales for Suzuki Motor of America, Inc. "RT has been very loyal to Suzuki and over the many years has played an important part in helping build our reputation with the press, the industry
and the boating public. We're honored to share this moment with him," added Blakely. Trosset has been a mainstay for Suzuki at press events and trade shows, and has been featured in many advertisements, catalogs, TV commercials and more.
Trosset is currently running twin Suzuki DF350 outboards with exclusive contra-rotating propellers on his 36' Yellowfin offshore boat and a single Suzuki DF300 on his 24' high-tech carbon fiber Yellowfin bay boat.
Trosset is especially proud of the fact that his sons Chris Trosset and Robert Trosset III are following in their father's footsteps — making a living on the water and running Suzuki outboards. RT III is running a successful diving guide service and Chris is building a strong reputation for himself as a top-notch Key West fishing guide.