Key New Product Launch Along With Bigger Booth, More In-Water Boats, New Developments Highlight Much-Anticipated Return to Miami Beach Convention Center and Sea Isle Marina
(MIAMI, FLA.) — Leading outboard motor innovator Suzuki Marine is going all-in for the 2022 Miami International Boat Show's return to the new Miami Beach Convention Center and the Sea Isle Marina in the heart of downtown Miami. For example, Suzuki's new 5,880-square-foot booth (Convention Center #MB1914) will be the company's largest Miami Show footprint ever. This booth will be packed with new product and innovations, including the DF115BG/DF140BG, DF300B dual-prop V6, and a new collaboration between Suzuki and marine electronics leader Furuno that will bring unparalleled automatic fishing features and navigation control to boats equipped with Suzuki's new Suzuki Precision Control (SPC) electronic shift and throttle system. The booth will also highlight other new Suzuki technologies, along with the company's exclusive Micro Plastics Filter and ongoing CLEAN OCEAN PROJECT to help protect coastal and aquatic environments worldwide.
Suzuki Marine will also have its largest ever display of in-water demo boats at the show's Sea Isle Marina venue, with 18 Suzuki-powered boats ready to take out potential customers and members of the boating press. The roster of boats includes models from premium builders Sea Chaser, Twin Vee, Dusky, Silverships, Freeman, Blue Wave, Shallow Sports, Sea Pro, Premier Pontoon, Sea Hunter, Pioneer, Stamas, Seaborn, East Cape Skiffs and Blazer, all rigged with a range of Suzuki outboards from 140 to 350 horsepower in single, twin and quad installations.
"Our entire team is excited about the return to the convention center and the great business opportunities the 2022 Miami Boat Show presents," said George "Gus" Blakely, Executive Vice President, Sales & Service for Suzuki Marine USA. "With our new headquarters and new U.S. Marine Technical Center in Florida, we are proud to call this state our home and equally proud to support in-person boat shows again. There is no show in the world like Miami, and we can't wait to work with our customers, boat building partners and the boating press face-to-face again," added Blakely.
Here are some highlights of Suzuki Marine's presence at the 2022 Miami Boat Show:
Launch of Suzuki/Furuno FishHunter™ Drive
New Fish Hunter Drive functionality delivers exclusive features for anglers running Furuno's NavPilot 300 autopilot and Suzuki's new "Suzuki Precision Control" (SPC) 4-stroke outboard motors, including the DF115BG/DF140BG, DF200AP/175AP, DF300AP/250AP and flagship DF300B/DF350A outboards.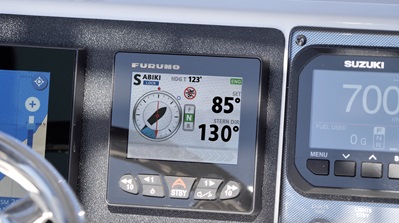 Easy plug-and-play integration between Furuno's NavPilot 300 and Suzuki's SPC system unlocks important new features for boaters and fishermen, including Speed Control, Route Smoothing™, Point Lock™ and SABIKI™ Lock Modes.
Suzuki SDSM+ App
Suzuki Marine will highlight its Suzuki Diagnostic System Mobile Plus App (SDSM+), developed to connect Suzuki customers with their outboard motors, Suzuki dealerships and service/maintenance providers. Easy to download and pair with today's advanced Suzuki Marine Display (SMD) and Suzuki Multi Function Gauge (SMG) units, the SDSM+ App retains all the popular SDSM functionality, while adding important new features. It allows boaters to instantly track and upload data from their engine to their phone, including engine number, number of hours since the last oil change, total engine hours, and hours of operation at different RPMs.
Data is stored in the phone and can be emailed directly to the dealer from the app, entirely free of charge. New functions include the ability to check the weather at your destination before boating, a customizable, pre-service checklist, a notification when its time to change the engine oil, and a function that diagnoses your driving and provides driving recommendations.
New Suzuki Marine USA Website
Suzuki Marine knows that the Ultimate Outboard Motor deserves the ultimate online experience. Suzuki Marine USA is launching a new online presence, offering a streamlined user interface to help customers navigate the site and learn all about Suzuki's lineup of innovative outboard motors and accessories.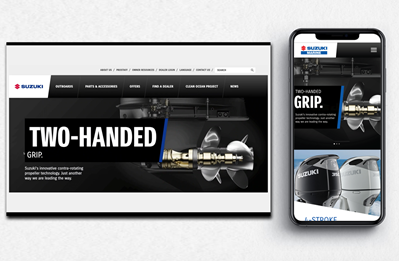 The new website also seamlessly connects users with Suzuki Marine's social media platform and provides access to authorized Suzuki dealers to help with repowering boats with powerful, efficient and reliable Suzuki outboards.
New Keyless Fob
Every great boating and fishing adventure begins with starting your Suzuki outboard. The show booth will highlight Suzuki's new Keyless Fob, which will be available later in 2022. This state-of-the-art system provides theft deterrent, as once paired, the motor(s) will not start without the Fob (or a user-selected six-digit passcode). This advanced system can start up to six engines in sequence for today's powerful boats.
Clean Oceans Project, Capt. Sergio Davi's Round The World Voyage Update, & More
There will plenty of other news and developments to hear about from Suzuki Marine. Suzuki will discuss its Micro Plastics Filter device for outboard engines and its ongoing Clean Oceans Project, updates on the progress of Capt. Sergio Davi's latest epic voyage aboard a Suzuki-powered Rigid Inflatable Boat (RIB), and more.
To learn more about the Suzuki Marine's complete line of technically advanced 4-stroke outboards from 2.5 to 350 horsepower — contact Suzuki Marine USA headquarters at (813) 687-7200 or visit www.suzukimarine.com
Contact:
Brandon Cerka Ron Ballanti
P: 432-349-7849
P: 818-349-4608
E: Brandon.Cerka@suz.com
E: ron@strike-zone.net