SUZUKI MARINE RECEIVES 2021 TOP PRODUCTS AWARD FROM
BOATING INDUSTRY MAGAZINE
Suzuki DF115BG/DF140BG Honored For Bringing New Features,
Drive-by-Wire Technology to New Class of Boats
(Tampa, FLA) – The new-for-2021 DF115BG and DF140BG outboard motors from Suzuki Marine have been selected as a 2021 Top Product by the editors of Boating Industry Magazine. This leading trade journal for the boating industry announced its annual Top Products award choices on May 10, 2021.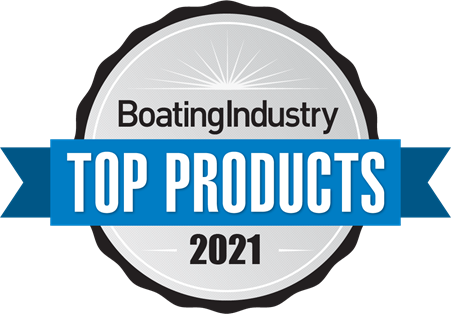 Suzuki's DF115BG and DF140BG 4-stroke outboards are the first in their class to offer boat builders and boaters alike all the benefits of factory drive-by-wire technology. Among the many advantages of Suzuki's proven electronic shift and throttle controls are simplified rigging and installation, silky smooth shifting, instant throttle response, enhanced performance and superior fuel economy.
These new additions to the Suzuki outboard lineup also provide an upgraded compression ratio of 10.6:1 for better top speed and quicker acceleration through improved thermal efficiency. Fuel efficiency has also been increased as compared to Suzuki's existing DF115A and DF140A models. These new outboards also include a 40 amp alternator that delivers improved output and battery charging at low idle speeds. A redesigned cowl incorporates and new air intake structure with improved water separation and a silencer-resonator system to provide a more pleasant boating experience at all engine speeds. To make routine maintenance easier, Suzuki has made it possible to replace the oil filter simply by removing the upper engine cover. In addition, a new Oil Spill Catcher on the filter mount prevents messes. Lastly, a new easy access Water Detection Fuel Filter helps protect the engine against contaminated fuel.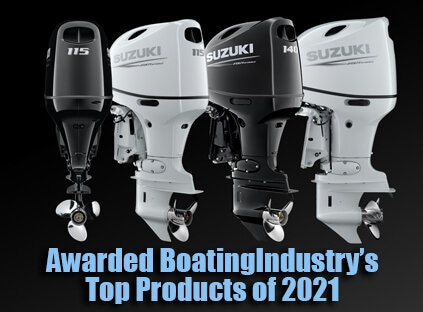 With 20-inch (L) and 25-inch (X) shaft lengths available, a choice of colors and attractive new graphics, these advanced new outboards are an ideal match for a wide range of popular boats including center consoles, flats skiffs, pontoon boats, bass and walleye boats, and more.
"We're honored to receive this recognition from Boating Industry Magazine," said George "Gus" Blakely, Vice President of Suzuki Marine USA, LLC. "Suzuki has a long-standing tradition of making its best outboard motors features and technologies available to the widest possible spectrum of boaters. These latest 115 and 140 horsepower models are perfect examples of this tradition in action. Being named a 2021 Top Product by this publication's panel of esteemed journalists supports our belief that listening to boat builders, dealers and customers and engineering what they want is the path to sustained growth and success," added Blakely.
To learn more about Suzuki Marine's full line of Ultimate Outboard Motors from 2.5 to 350 horsepower, contact Suzuki Marine USA at (813) 687-7200 or visit www.suzukimarine.com.