Florida Governor Ron Desantis and CFO Jimmy Patronis Attends IBEX Conference,
CFO Patronis Celebrates New Suzuki Marine Headquarters in Tampa
For Immediate Release: Tuesday, September 28, 2021
Contact: Office of Communications, Communications@MyFloridaCFO.com, 850.413.2842
Florida Governor Ron Desantis and CFO Jimmy Patronis Attends IBEX Conference,
CFO Patronis Celebrates New Suzuki Marine Headquarters in Tampa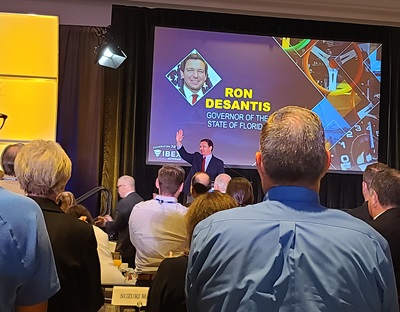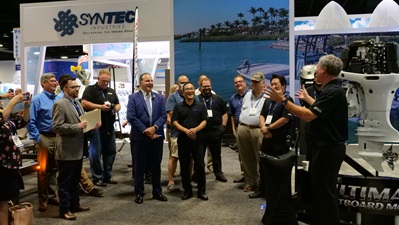 TAMPA, Fla. – Today, Florida Governor Ron Desantis and Chief Financial Officer (CFO) Jimmy Patronis attended the International Boat Builders' Exhibition & Conference (IBEX) in Tampa. IBEX is North America's largest trade event for recreational marine industry professionals including all the latest marine technologies, tools and materials. Earlier this year, Suzuki Marine USA announced that they would be moving their headquarters to Hillsborough County, which will create numerous jobs over the next several years.
CFO Jimmy Patronis said, "I was glad to join Suzuki Marine USA today in Tampa for the IBEX Show and celebrate their official move to Florida with new headquarters in Tampa and the development of a new state-of-the-art Marine Technical Center in Panama City. With low corporate income tax, beautiful weather, and access to world-class waterways and ports, Suzuki Marine hit a home run when they decided to build their new corporate home here in the Florida. I look forward to celebrating their future success and the exciting new marine industry innovations developed right here in the Sunshine State."
About CFO Jimmy Patronis
Chief Financial Officer and State Fire Marshal Jimmy Patronis is a statewide elected official and a member of Florida's Cabinet who oversees the Department of Financial Services. CFO Patronis works each day to fight insurance fraud, support Florida's firefighters, and ensure the state's finances are stable to support economic growth in the state. Follow the activities of the Department on Facebook (FLDFS) and Twitter (@FLDFS).